'Inspiration exists, but it has to find you working.' – Pablo Picasso
Welcome to the website of Graham 'Grammo' Pilgrim, Producer & sound engineer, where you can discover some of the projects I have worked on & you can read my musings on all things audio, both in the studio & live.
A little bit about me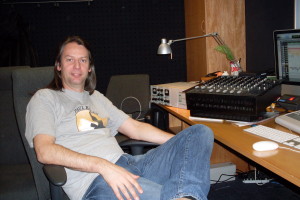 I have been a professional sound engineer since 1990 & I spent 15 years in London working for artists that included Keith Emerson, Wishbone Ash, the Go-betweens, the Stranglers & David Gray before moving to Rome, Italy, in 2006. I play bass, guitar, & keyboards & was a member of the ambient trance collective Amorphic Field with Producer Mike Bennett.
Spotlight Studios
From 1995 to 2006 I owned & ran Spotlight Studios as a home base for my productions while continuing to Freelance at various studios including, to name a few of my favourites, Straylight, Livingstone, Southern, & Monnow Valley. After moving to Rome I downsized & relied on commercial facilities & location recording, eventually setting up a mix/editing suite in our basement when we moved into our new apartment in 2008. Most of the kit from Spotlight has been flight-cased & travels with me when track laying (see the Gear junkie page).
Live
I have always been equally at home behind a FOH desk as in the studio & while in London I was house engineer for 6 years at the Spotted Dog , Willesden Green (600 capacity club), 3 years at the Redback Tavern, Acton, Other regular haunts included the Swan, Stockwell, The Telegraph, Brixton, & I regularly toured the UK & Europe. Since March 2013 I've had a 5kw PA available for hire in the Rome area & I help to run in partnership with M-Lab Associazione Musicale, the Carpineto Music Festival in Carpineto Romano, Lazio, promoting both UK & Italian bands.